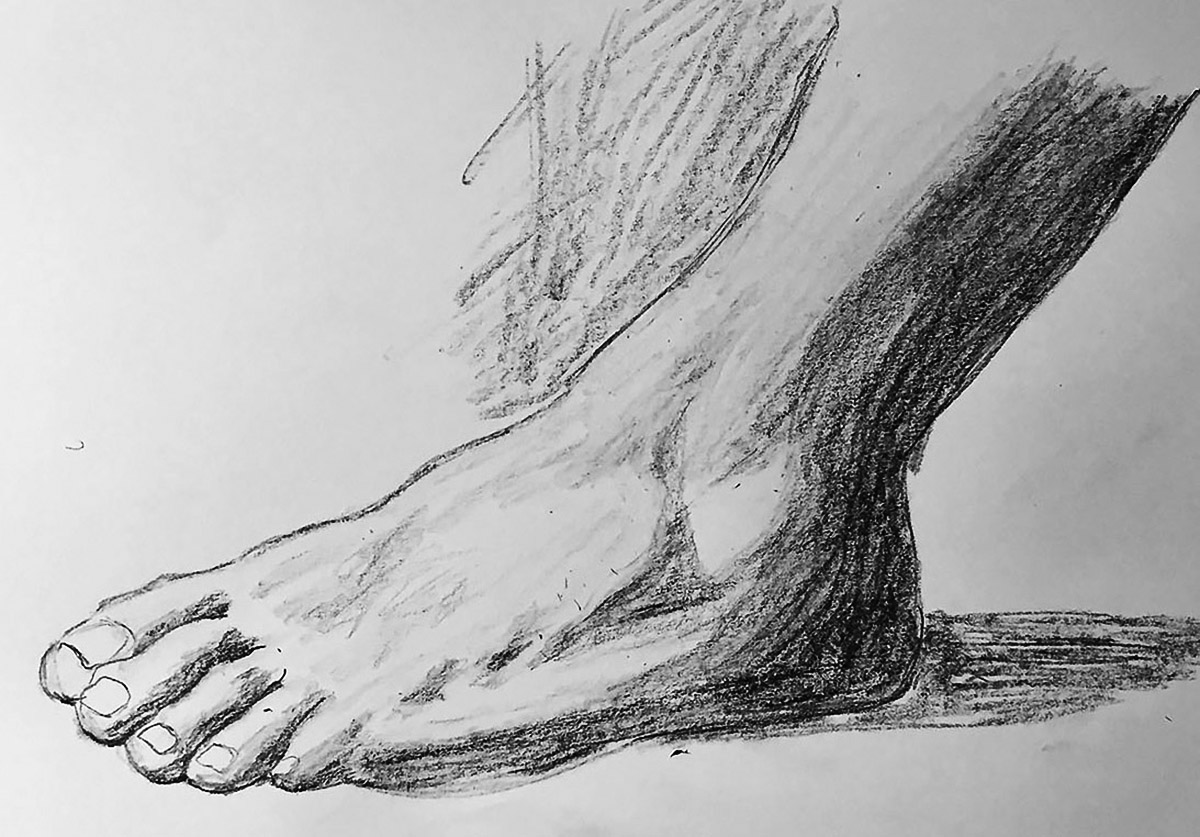 The next drawing on my old master copy marathon is a graphite pencil drawing of a foot. If it does not look like a foot then I have failed unless I wanted to confuse you then I succeeded. If I was trying to confuse you about what the drawing was but you could tell it was a foot then I have failed. My drawing is a copy of a work done in chalk by the 17th century Italian Master Domenico Zampieri or as he was known, Domenichino. Domenichino means little Domenico because, according to my well researched research he was a small guy. Yet he was a giant when it comes to 17th century painting. From the 17th through the 19th centuries, he was considered one of the greatest painters of all time, second only to Raphael. Domenichino studied art in Bologna under Annibale Carracci and became Carracci's favorite student and assistant.
Domenico Zampieri, I feel strange calling him Domenichino, maybe he didn't like that nickname. Moving on, Domenico was an excellent draftsman who carefully studied nature as well as ancient sculpture and then idealized his forms making them nearly flawless. He also created idealized landscapes that later influenced the great landscape painters such as Claude Lorrain and Nicolas Poussin.
Domenichino was also a talented musician and architect. He was also incredibly well read. He believed art is a type of poetry. Some of his greatest work is at The Church of St. Louis of the French which is a Roman Catholic church in Rome, and also the The Last Communion of Saint Jerome altarpiece which can be found in the Vatican.
Later in his life he was bullied by younger and perhaps jealous artists and he is believed to have committed suicide because of it.
And now for the Spanish translation by Google Translate:
El siguiente dibujo en mi viejo maratón de copias maestras es un dibujo a lápiz de grafito de un pie. Si no parece un pie, entonces he fallado, a menos que quisiera confundirte, entonces lo logré. Si estaba tratando de confundirte acerca de cuál era el dibujo pero podías decir que era un pie, entonces he fallado. Mi dibujo es una copia de un trabajo realizado con tiza por el maestro italiano del siglo XVII Domenico Zampieri o como se le conocía, Domenichino. Domenichino significa pequeño Domenico porque, según mi investigación bien documentada, era un tipo pequeño. Sin embargo, era un gigante en lo que respecta a la pintura del siglo XVII. Desde el siglo XVII hasta el XIX, fue considerado uno de los mejores pintores de todos los tiempos, solo superado por Rafael. Domenichino estudió arte en Bolonia con Annibale Carracci y se convirtió en el alumno y asistente favorito de Carracci. Domenico Zampieri, me siento raro llamándolo Domenichino, tal vez no le gustaba ese apodo. Continuando, Domenico fue un excelente dibujante que estudió cuidadosamente la naturaleza y la escultura antigua y luego idealizó sus formas haciéndolas casi perfectas. También creó paisajes idealizados que luego influyeron en los grandes paisajistas como Claude Lorrain y Nicolas Poussin. Domenichino también fue un talentoso músico y arquitecto. También fue increíblemente bien leído. Creía que el arte es un tipo de poesía. Algunos de sus mejores trabajos se encuentran en La Iglesia de San Luis de los Franceses, que es una iglesia católica romana en Roma, y ​​también en el retablo de La Última Comunión de San Jerónimo, que se puede encontrar en el Vaticano. Más adelante en su vida, fue intimidado por artistas más jóvenes y quizás celosos y se cree que se suicidó por eso.