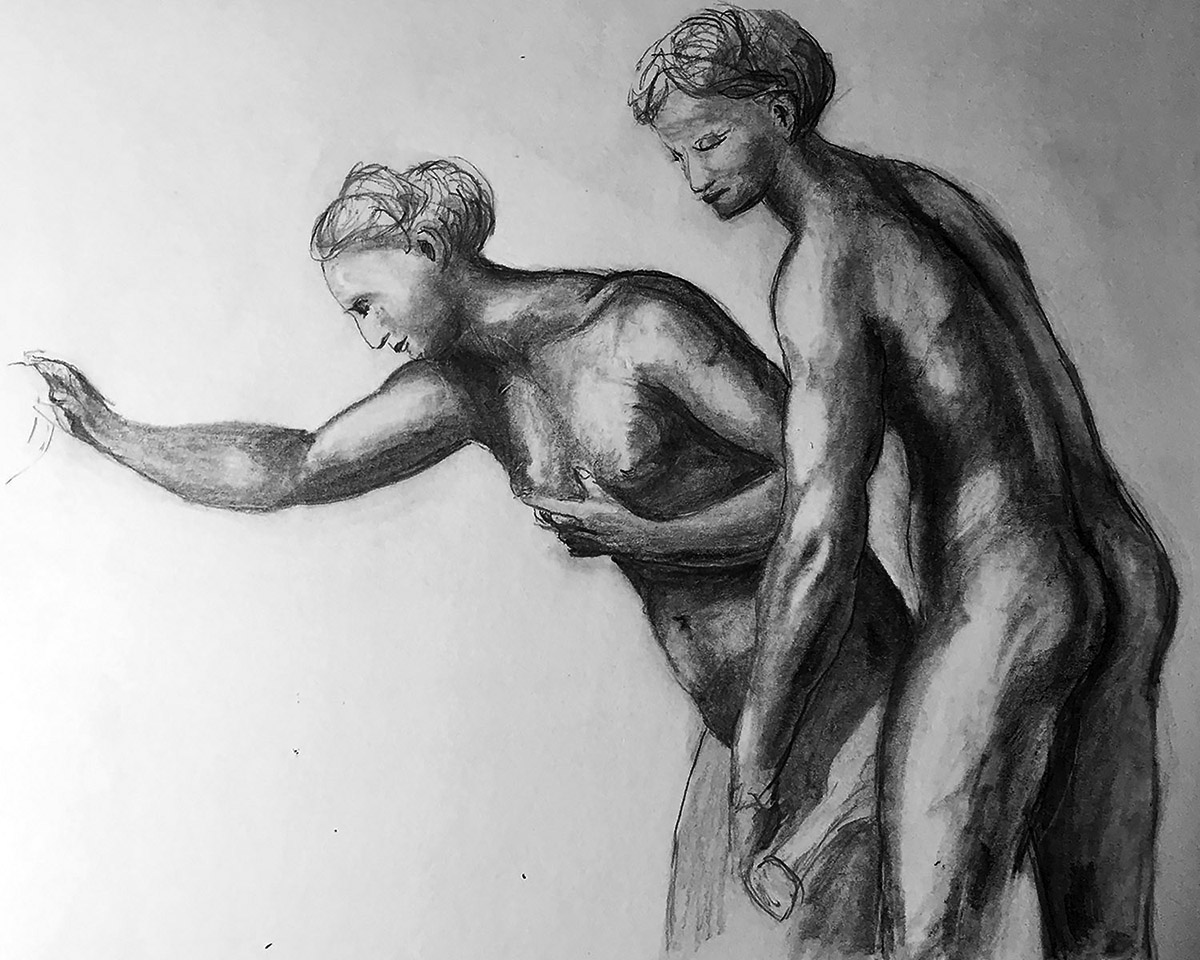 The image in this blog post is a copy in graphite pencil of a Raphael drawing originally done in red chalk. The subject is "The Three Graces". In Raphael's drawing there are three nude figures representing, you guessed it, The Three Graces. I only drew two. Why did I only draw two? Because Raphael is Raphael and I am me. Raphael was a great artist and I am, like I said before, myself, that of which I am. At this point I would say something self deprecating like; I ain't no Raphael but today I need to conserve as much self confidence as possible. So let us talk about The Three Graces. I must warn you up front that whenever I try to learn about Greek Mythology my brain shuts down. I mean like I have to lie down and take a nap in the fetal position type of breakdown. So in the interest of both of us I will basically just cut and paste whatever information I come across.
The Three Graces, also called Charites, come from Greek mythology. In his work "Theogony" Hesiod describes three Graces. So let me introduce to you the reader the Three Graces.
First off we have Aglaea. She represents Radiance. She glows like a EcoSmart Light Bulb. I am neither endorsed or have any professional or personal relationship with the EcoSmart brand. I was just trying to be clever.
Next up we have Euphrosyne. She represents "Joy". She is basically the Selective Serotonin Re-uptake Inhibitor (antidepressant) of the ancient world. Her side effects might include:
• Nausea, vomiting or diarrhea
• Headache
• Drowsiness
• Dry mouth
• Insomnia
• Nervousness, agitation or restlessness
• Dizziness
The last but not certainly least grace, even though that is probably the one I left out in the drawing, is Thalia. She is a Mexican singer, businesswoman, and former actress. Born in Mexico City, she first achieved recognition as a member of the successful pop group Timbiriche from 1986 through 1989. Wait that's the wrong Thalia. Anyway, she represents Flowering. Her parents were Zeus and Eurynome. I'm starting to get sleepy. That's all for now.
And now in Spanish by Google Translate
La imagen en este blog Post es una copia en el lápiz de grafito de un dibujo de Rafael originalmente hecho en tiza roja. El sujeto es "las tres gracias". En el dibujo de Rafael hay tres figuras desnudas que representan, lo adivinaste, las tres gracias. Solo dibujé dos. ¿Por qué solo dibujé dos? Porque Raphael es Raphael y yo soy yo. Raphael era un gran artista y yo, como dije antes, a mí mismo, aquello de lo que soy. En este punto diría algo que se estaba deprimiendo como; No soy Raphael, sino hoy, necesito conservar la mayor confianza posible. Así que hablemos de las tres gracias. Debo advertirte al frente de que cada vez que trato de aprender sobre la mitología griega, mi cerebro se apaga. Quiero decir, como si tuviera que acostarme y tomar una siesta en el tipo de desglose de la posición fetal. Entonces, en interés de los dos, básicamente, solo cortaré y pegaré cualquier información que me encuentre. Las tres gracias, también llamadas charites, provienen de la mitología griega. En su trabajo "tehogony" Hesíodo describe tres gracias. Así que déjame presentarles al lector las tres gracias. En primer lugar tenemos Aglaea. Ella representa la resistencia. Ella brilla como una bombilla de EcoSmart. No estoy respaldado ni tiene ninguna relación profesional o personal con la marca EcoSmart. Solo estaba tratando de ser inteligente. Siguiente Tenemos Euphrosyne. Ella representa la "alegría". Básicamente, es el inhibidor selectivo de la re-captación de serotonina (antidepresivo) del mundo antiguo. Sus efectos secundarios pueden incluir: • Náuseas, vómitos o diarrea. • Dolor de cabeza • Somnolencia • Boca seca • insomnio • Nerviosidad, agitación o inquietud. • mareos La última, pero sin duda menos la gracia, aunque eso es probablemente la que dejé hacia afuera en el dibujo, es Thalia. Ella es una cantante, empresaria y antigua actriz mexicana. Nacido en la Ciudad de México, logró el reconocimiento por primera vez como miembro del exitoso grupo pop Timbiriche desde 1986 hasta 1989. Espera que es el error equivocado. De todos modos, ella representa la floración. Sus padres eran Zeus y Eurynome. Estoy empezando a tener sueño. Eso es todo por ahora.