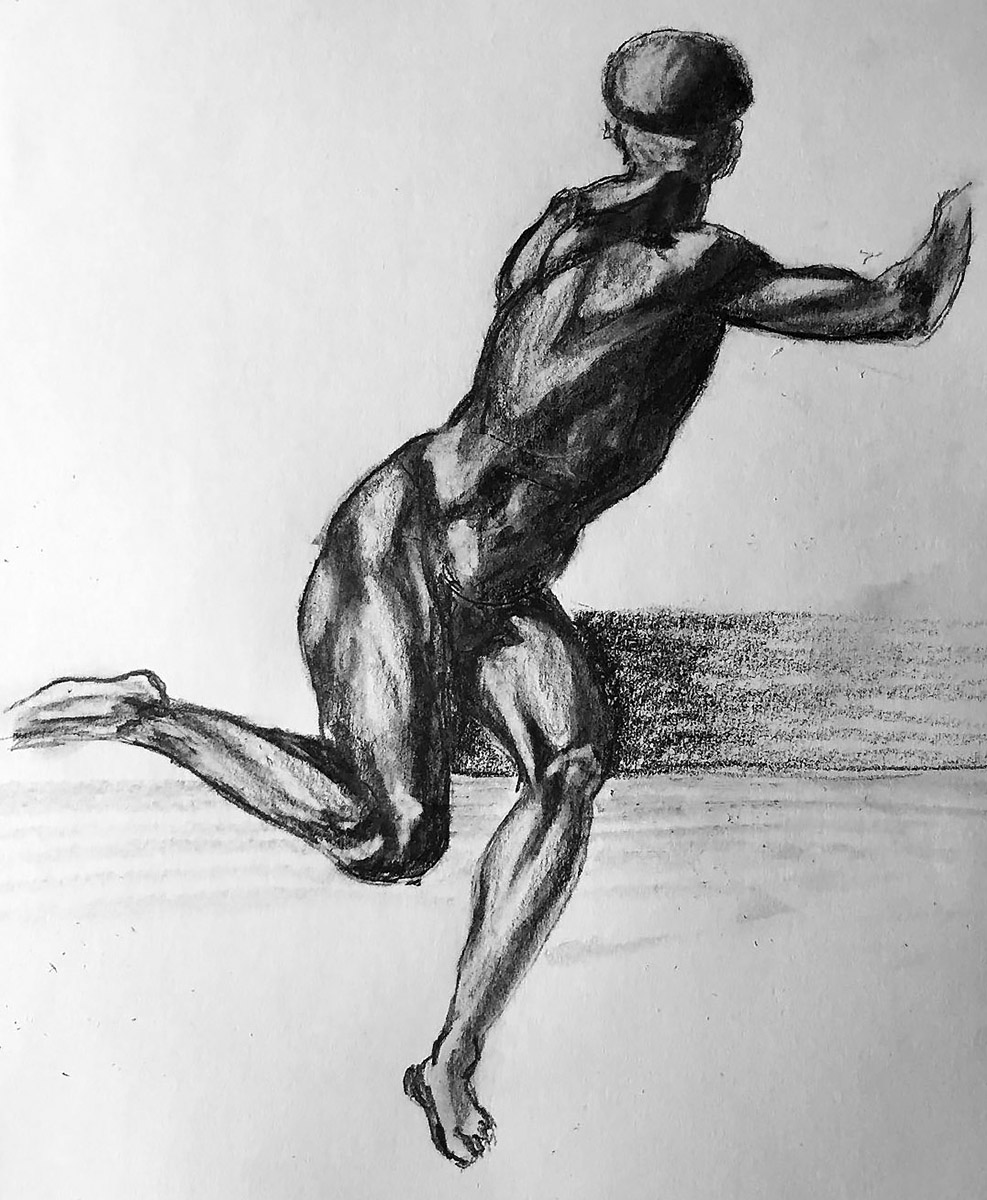 The next old master copy is of a black chalk drawing by Michelangelo Buonarroti. However, there is some doubts about whether it was actually drawn by Michelangelo himself. The drawing is a study for the central part of a fresco of the 'Battle of Cascina'. Unfortunately, the work was never realized which I guess means it was never started or perhaps it was started and never finished. In the book I copied the drawing, it says it was done in black chalk. The British museum, where it is on display, states that it was done in pen and brown ink, brown and gray wash, and then heightened with white over leadpoint and stylus. It also states that the white is somewhat discolored. So either the book titled "Anatomy Lessons From the Great Masters: 100 Great Figure Drawings" is being overly simplistic or the British museum is being very British. It is really hard to say. Wait a second, I think I found out what the confusion is about. The drawing at the British Museum says the it was an experiment with different mediums that didn't work out very well. It goes on to say that Michelangelo created other studies of the same subject in black chalk. I know what your thinking. I am writing about the wrong drawing. And you would be correct in your thinking. But in all fairness it does look very similar to the one I copied. Nonetheless, I made my copy with a pencil or to be more exact, a few different types of pencils.
Moving on. The fresco was to celebrate the 'Battle of Cascina' and was to be displayed on a wall in the Great Council's Florentine Room of the Palazzo Vecchio. Leonardo da Vinci was suppose to paint another work on the other side of the room to celebrate the 'Battle of Anghiari' which was another victory for the Florentine army. Leonardo's painting was done with an experimental method that failed and was unable to be salvaged. Speaking of salvaged, I am unable to salvage this poorly written blog post.
And now in Spanish, courtesy of Google Translate:
La siguiente copia maestra antigua es un dibujo con tiza negra de Miguel Ángel Buonarroti. Sin embargo, existen algunas dudas sobre si realmente fue dibujada por el mismo Miguel Ángel. El dibujo https://www.britishmuseum.org/collection/object/P_1887-0502-116 es un estudio para la parte central de un fresco de la 'Batalla de Cascina'. Desafortunadamente, el trabajo nunca se realizó, lo que supongo que significa que nunca se comenzó o tal vez se comenzó y nunca se terminó. En el libro copié el dibujo, dice que fue hecho con tiza negra. El museo británico, donde se exhibe, afirma que se hizo con pluma y tinta marrón, aguada marrón y gris, y luego realzado con blanco sobre la punta de plomo y el lápiz óptico. También afirma que el blanco está algo descolorido. Entonces, el libro titulado "Lecciones de anatomía de los grandes maestros: 100 grandes dibujos de figuras" está siendo demasiado simplista o el museo británico está siendo muy británico. Es realmente difícil de decir. Espera un segundo, creo que descubrí de qué se trata la confusión. El dibujo del Museo Británico dice que fue un experimento con diferentes medios que no funcionó muy bien. Continúa diciendo que Miguel Ángel creó otros estudios del mismo tema en tiza negra. Sé lo que estás pensando. Estoy escribiendo sobre el dibujo equivocado. Y estarías en lo correcto en tu forma de pensar. Pero para ser justos, se parece mucho al que copié. Sin embargo, hice mi copia con un lápiz o, para ser más exactos, algunos tipos diferentes de lápices. Hacia adelante. El fresco debía celebrar la 'Batalla de Cascina' y se exhibiría en una pared en la Sala Florentina del Gran Consejo del Palazzo Vecchio. Se suponía que Leonardo da Vinci pintaría otra obra al otro lado de la habitación para celebrar la 'Batalla de Anghiari', que fue otra victoria para el ejército florentino. La pintura de Leonardo se hizo con un método experimental que falló y no se pudo salvar. Hablando de rescatado, no puedo salvar esta publicación de blog mal escrita.