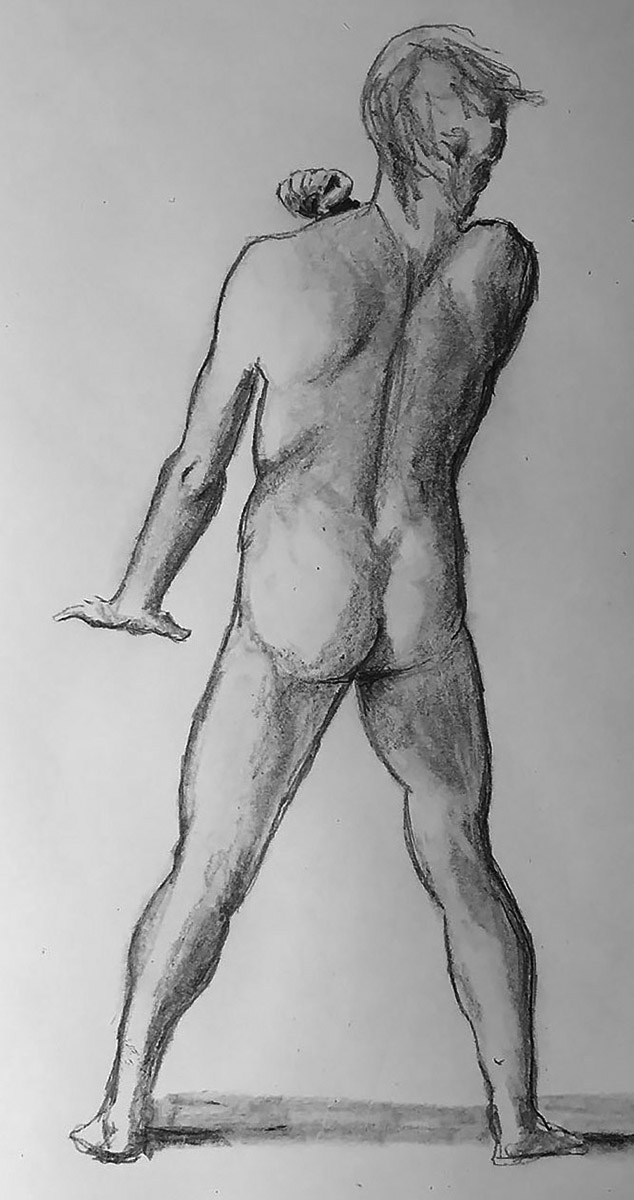 Next up on the old master copy marathon, we have another work after the Italian Renaissance master Luca Signorelli, who created his drawing in red chalk and colored wash. The medium colored wash is rather vague. I can't just go to Blick Art Supply store and ask for colored wash. It could be embarrassing. Anyway I did mine in pencil. I think like a number 2 pencil and maybe a darker one. That is rather vague as well. I have talked somewhat about Signorelli in my last post so I think I'll write about the Museé Bonnat which houses the original drawing. According to the internet the museum is temporarily closed. Is it because of the Covid pandemic? or remodeling? or perhaps something more sinister is going on? Let's investigate.
The Musée Bonnat art museum was opened in 1901 in Bayonne, Nouvelle-Aquitaine, France. It is named after the hometown painter, Léon Bonnat. Bonnat donated his collection of paintings as well as a large number of drawings to the City of Bayonne. This doesn't explain why the museum is closed. So I consulted a 2019 entry from Wikipedia and DBpedia. The DBpedia might just copy information from Wikipedia or perhaps the other was around. Anywho, the Museé Bonnat closed it's doors in April of 2011 for an extension renovation. The project will double the size of the art museum. It says the work will begin in early 2018 and then will open towards the end of 2019. So that explains why the museum is closed now. Wait, it does not explain that. It also doesn't explain why the museum would close in 2011 if the renovation wasn't going to even start until 2018. So I thought I would visit the actual Museé Bonnat website which is where I should have probably started by investigation. Apparently the museum will remain closed to the public until 2024. So if you are the public and would like to see the drawing by Signorelli you will have to wait a few more years but since you have already waited 10 years I guess is won't seem like that much longer. If you want to see my copy, you can stop by anytime, I'll put out some chips and salsa.
And now for the Spanish translation courtesy of Google Translate
A continuación, en el maratón de copias maestras antiguas, tenemos otro trabajo después del maestro renacentista italiano Luca Signorelli, quien creó su dibujo con tiza roja y aguada de colores. El lavado de color medio es bastante vago. No puedo simplemente ir a la tienda Blick Art Supply y pedir un lavado de color. Podría ser vergonzoso. De todos modos hice el mío a lápiz. Pienso como un lápiz del número 2 y tal vez uno más oscuro. Eso también es bastante vago. He hablado un poco de Signorelli en mi último post, así que creo que escribiré sobre el Museé Bonnat que alberga el dibujo original. Según Internet, el museo está cerrado temporalmente. ¿Es por la pandemia de Covid? o remodelación? ¿O quizás está pasando algo más siniestro? Investiguemos. El museo de arte Musée Bonnat se inauguró en 1901 en Bayona, Nouvelle-Aquitaine, Francia. Lleva el nombre del pintor de la ciudad natal, Léon Bonnat. Bonnat donó su colección de pinturas y una gran cantidad de dibujos a la ciudad de Bayona. Esto no explica por qué el museo está cerrado. Así que consulté una entrada de 2019 de Wikipedia y DBpedia. La DBpedia podría simplemente copiar información de Wikipedia o quizás la otra estaba por ahí. De todos modos, el Museé Bonnat cerró sus puertas en abril de 2011 para una renovación de extensión. El proyecto duplicará el tamaño del museo de arte. Dice que el trabajo comenzará a principios de 2018 y luego se abrirá hacia fines de 2019. Eso explica por qué el museo está cerrado ahora. Espera, eso no explica. Tampoco explica por qué el museo cerraría en 2011 si la renovación no iba a comenzar ni siquiera hasta 2018. Así que pensé en visitar el sitio web actual de Museé Bonnat, que es donde probablemente debería haber comenzado a investigar. Aparentemente, el museo permanecerá cerrado al público hasta 2024. Entonces, si eres el público y te gustaría ver el dibujo de Signorelli, tendrás que esperar unos años más, pero como ya has esperado 10 años, supongo que no. parece mucho más largo. Si quieres ver mi copia, puedes pasar cuando quieras, sacaré unas patatas fritas y salsa.