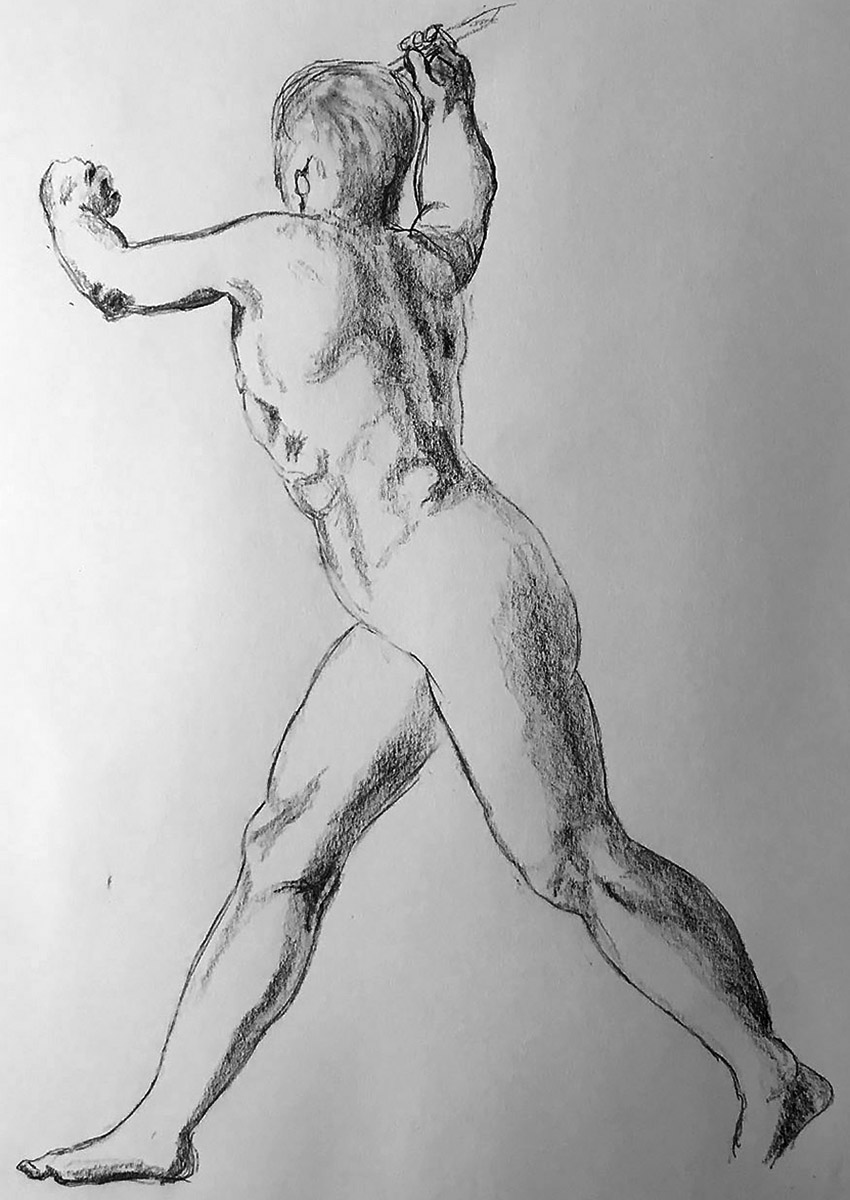 Next up we have another male nude figure seen from the back. It is a drawing done in graphite pencils on 9″ x 12″ Strathmore paper. The original by Taddeo Zuccaro is about 17 in. x 11 in. and was done in red chalk and highlighted with white gouache (which is somewhat similar to watercolor).
Taddeo Zuccaro was born around the year 1540 in Sant'Angelo in Vado. He moved to Rome to study painting at the age of 14 and at 17 started studying under the master Correggio. He was an excellent draftsman and eventually became famous from his frescoes of historical themes.
The subject of the original, created in 1550, is a male nude drawn by life but is also somewhat based on the style of the 'Horse Tamers' which is a group of Roman sculptures on the Quirinal Hill. The original drawing is done in a naturalistic style but also distorted somewhat in the style of Michelangelo. Not only did Taddeo Zuccaro admire Michelangelo but Michelangelo in turn admired the young Taddeo Zuccaro for his skills as a draftsman. The nude figure study is similar to one he drew in which a soldier is holding the reins of a horse in the foreground of the composition. Both works were done as preparatory work for a fresco that decorated a Roman Palace. According to the description by the Metropolitan Museum in New York, the fresco is now lost. I don't know how you lose a fresco or a palace. I should do some more research, although it might be more interesting to you and less work for me if I didn't do anymore research on the frescoes and created some mystery. However, I did find out that the original drawing by Taddeo Zuccaro is in the collection of the Metropolitan but unfortunately is not on view. So you aren't able to see it. And the other drawing that is similar to that one is in a private collection. So you can't see that one either. I'm not sure what I did with the copy of it I drew so you can't see that at the moment either. This just isn't your day.
And now for the Spanish version by Google translate:
A continuación tenemos otra figura desnuda vista desde atrás, gracias a Dios. O si eres judío, agradece a Di-s. Es un dibujo realizado en lápices de grafito sobre papel Strathmore de 9 "x 12". El original de Taddeo Zuccaro mide aproximadamente 43 x 28 cm, fue realizado con tiza roja y resaltado con aguada blanca (similar a la acuarela).
Taddeo Zuccaro nació alrededor del año 1540 en Sant'Angelo in Vado. Se trasladó a Roma para estudiar pintura a los 14 años y a los 17 empezó a estudiar con el maestro Correggio. Fue un excelente dibujante y finalmente se hizo famoso por sus frescos de temas históricos.
El tema del original, creado en 1550, es un desnudo masculino dibujado por la vida, pero también está algo basado en el estilo de los 'Domadores de caballos', que es un grupo de esculturas romanas en el Quirinal Hill. El dibujo original está hecho en un estilo naturalista pero también algo distorsionado al estilo de Miguel Ángel. Taddeo Zuccaro no solo admiraba a Miguel Ángel, sino que Miguel Ángel a su vez admiraba al joven Taddeo Zuccaro por sus habilidades como dibujante. El estudio de la figura desnuda es similar a uno que dibujó en el que un soldado sostiene las riendas de un caballo en el primer plano de la composición. Ambas obras se realizaron como trabajo preparatorio de un fresco que decoraba un palacio romano. Según la descripción del Museo Metropolitano de Nueva York, el fresco ahora está perdido. No sé cómo se pierde un fresco o un palacio. Debería investigar un poco más, aunque podría ser más interesante para ti y menos trabajo para mí si no investigara más sobre los frescos y creara algún misterio. Sin embargo, descubrí que el dibujo original de Taddeo Zuccaro está en la colección del Metropolitan, pero desafortunadamente no está a la vista. Entonces no puedes verlo. Y el otro dibujo que es similar a ese está en una colección privada. Así que tampoco puedes ver ese. No estoy seguro de qué hice con la copia que dibujé, así que tampoco puedes ver eso en este momento. Este no es tu día.