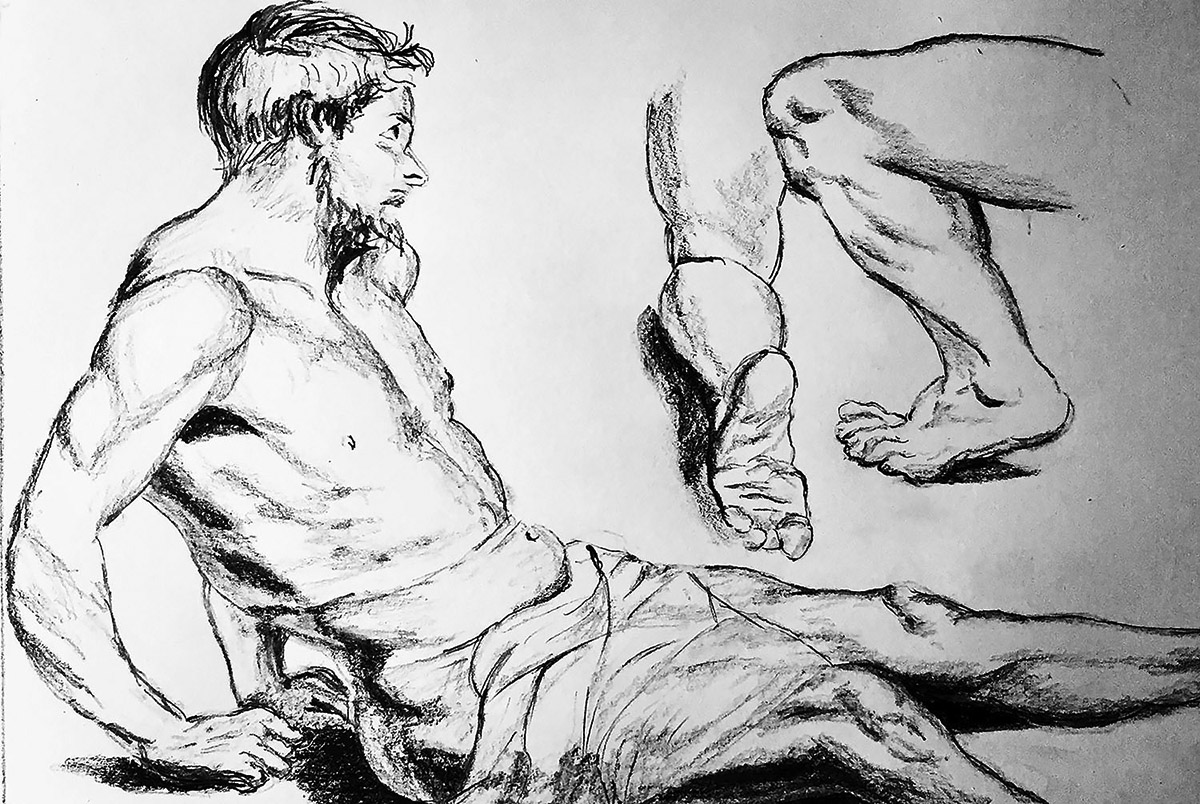 My next offering is a copy of drawing done by the Flemish master Peter Paul Rubens sometime between 1617-18. The Victoria and Albert Museum where the drawing is displayed describes his work as a study of a nude man that is in a recumbent position and then trying to raise himself up and that seems to confirm what we see. But wait there's more. There are also two studies of legs, that are in a kneeling position. The original drawing was done in black chalk with touches of white. I drew my copy with various graphite pencils. Actually just two different pencils, I just don't remember which ones they were. One was light and the other dark. There are drawing pencil sets with several different types of pencils but I personally find it difficult to keep track of when to use each one so I usually only use two. I hope you had as much fun reading about pencils as I have writing about them. Just in case you can have too much of a good thing, let's move on.
The original drawing was a study for the painting "Miracles of St. Francis Xavier", which is a large altarpiece that is on display at the Kunsthistorisches Museum in Vienna. The subject in the drawing is not St. Francis but some 'regular joe' that is raising from his grave or perhaps he is being healed from the bubonic plague. Maybe he died of the plague and then St. Francis Xavier brought him back from the dead or he was still alive and want to sit up to see what all the commotion was about. Different websites have different ideas about what is actually going on with that pale fellow. But one thing we do now it that he is a man who is in the presence of St. Francis Xavier and that is something in and of itself.
And now for the Spanish version courtesy of Google Translate:
Mi próxima oferta es una copia del dibujo realizado por el maestro flamenco Peter Paul Rubens en algún momento entre 1617-18. El Museo Victoria and Albert, donde se exhibe el dibujo, describe su trabajo como un estudio de un hombre desnudo que está en posición recostada y luego intenta levantarse y eso parece confirmar lo que vemos. Pero espera hay mas. También hay dos estudios de piernas, que están en posición de rodillas. El dibujo original fue realizado en tiza negra con toques de blanco. Dibujé mi copia con varios lápices de grafito. En realidad, solo dos lápices diferentes, solo que no recuerdo cuáles eran. Uno era claro y el otro oscuro. Hay juegos de lápices de dibujo con varios tipos diferentes de lápices, pero personalmente me resulta difícil hacer un seguimiento de cuándo usar cada uno, por lo que generalmente solo uso dos. Espero que te hayas divertido tanto leyendo sobre lápices como yo escribiendo sobre ellos. En caso de que puedas tener demasiado de algo bueno, sigamos adelante.
El dibujo original era un estudio para la pintura "Milagros de San Francisco Javier", que es un gran retablo que se exhibe en el Kunsthistorisches Museum de Viena. El sujeto del dibujo no es San Francisco, sino un 'joe normal' que se está levantando de su tumba o tal vez está siendo curado de la peste bubónica. Tal vez murió de la peste y luego San Francisco Javier lo resucitó o todavía estaba vivo y quería sentarse para ver de qué se trataba toda la conmoción. Diferentes sitios web tienen diferentes ideas sobre lo que realmente está pasando con ese tipo pálido. Pero una cosa que sabemos ahora es que él es un hombre que está en la presencia de San Francisco Javier y eso es algo en sí mismo.