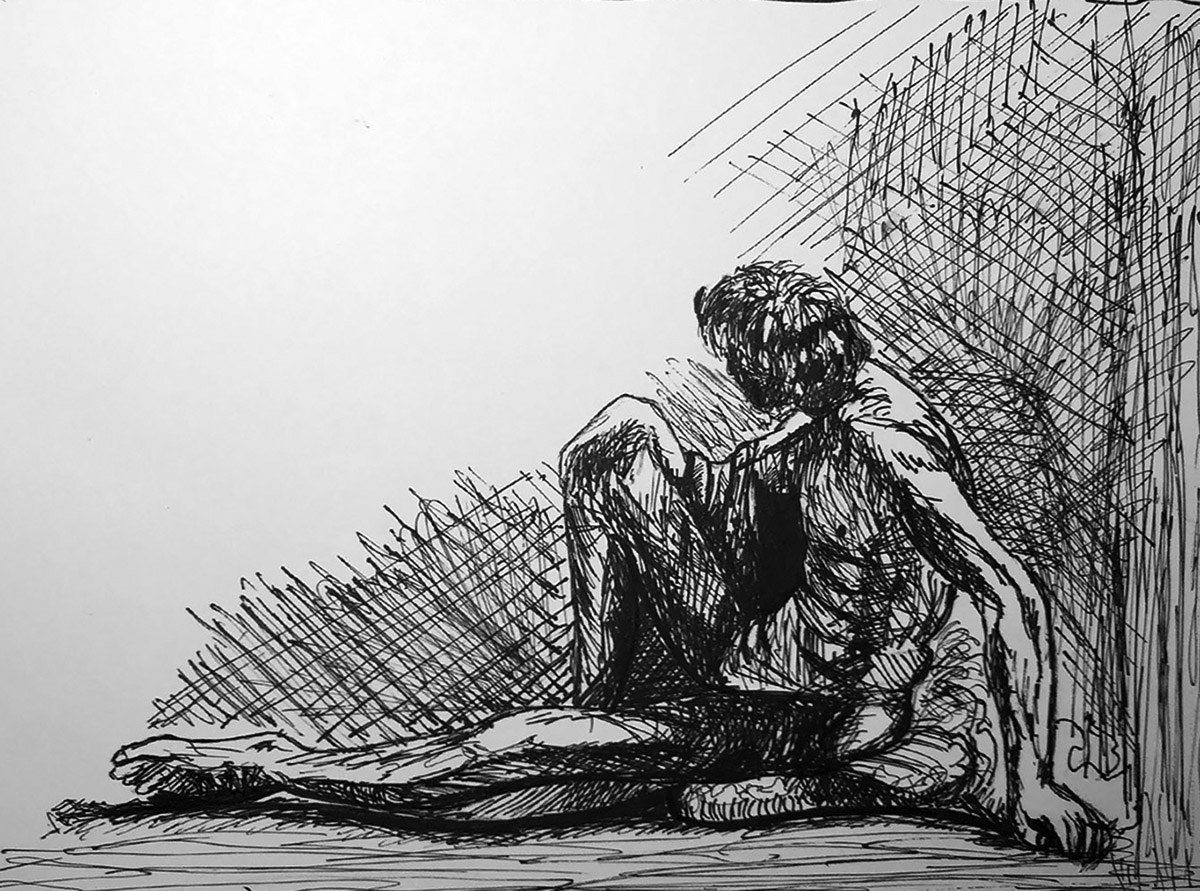 Next up we have a copy of an etching done by Rembrandt van Rijn of a man sitting on the ground. I drew my copy with a pen called "inkjoy" which is made by the really great folks at the Papermate company. Unfortunately, this particular pen is not that great for drawing. However, whenever I have a bad day at work I like to come home and grab my "inkjoy" pen and all my troubles start to melt away. In these tough times it's nice to know that the outstanding people at papermate are fighting for our "joy". The "inkjoy" pen is available at Walgreens or anywhere fine art supplies are sold. I basically copied that from my Instagram account because I'd like to think I'm kind of an expert when it comes to myself. And there is no Wikipedia page on me. Believe me I have searched. When you type in 'Brad Luthin' at Wikipedia, a prompt comes up saying did you mean 'brand luther'. If you click on 'brand luther' it takes you to a page saying that the page does not exist. So I googled Brand Luther and there is a book entitled 'Brand Luther' which is about Martin Luther who started the Protestant Reformation. Martin Luther used the power of publishing to promote his ideas. And wouldn't you know it I used to work in publishing. I designed newspaper advertisements. Martin Luther also gave us the Lutheran church. Growing up there was a Lutheran church in our neighborhood and it was listed in the phonebook next to our family name 'Luthin' and people would sometimes call and ask if we were the Lutheran church. I know that's not much of a story but it is true and this is a Free blog with no ads (yet). At this point, you're probably asking yourself what is the point of all this. That is a great question. My answer would be nowhere, because this post went nowhere. Enjoy the rest of your day!
And now for the Spanish translation courtesy of Google translate:
A continuación tenemos una copia de un grabado realizado por Rembrandt van Rijn de un hombre sentado en el suelo. Dibujé mi copia con un bolígrafo llamado "inkjoy" que está hecho por la gran gente de la compañía Papermate. Desafortunadamente, este bolígrafo en particular no es tan bueno para dibujar. Sin embargo, cada vez que tengo un mal día en el trabajo, me gusta volver a casa y agarrar mi bolígrafo "inkjoy" y todos mis problemas comienzan a desaparecer. En estos tiempos difíciles es bueno saber que las personas destacadas de papermate están luchando por nuestra "alegría". El bolígrafo "inkjoy" está disponible en Walgreens o en cualquier lugar donde se vendan artículos de bellas artes. Básicamente lo copié de mi cuenta de Instagram porque me gustaría pensar que soy una especie de experto cuando se trata de mí mismo. Y no hay ninguna página de Wikipedia sobre mí. Créanme que he buscado. Cuando escribe 'Brad Luthin' en Wikipedia, aparece un mensaje que dice que quiso decir 'marca luther'. Si hace clic en 'brand luther', lo lleva a una página que dice que la página no existe. Así que busqué en Google Brand Luther y hay un libro titulado 'Brand Luther' que trata sobre Martín Lutero, quien inició la Reforma protestante. Martín Lutero usó el poder de la publicación para promover sus ideas. ¿Y no lo sabrías? Solía ​​trabajar en publicaciones. Diseñé anuncios para periódicos. Martín Lutero también nos dio la iglesia luterana. Mientras crecíamos, había una iglesia luterana en nuestro vecindario y estaba incluida en la guía telefónica junto a nuestro apellido 'Luthin' y la gente a veces llamaba y preguntaba si éramos la iglesia luterana. Sé que no es una gran historia, pero es verdad y este es un blog gratuito sin anuncios (todavía). A estas alturas, probablemente te estés preguntando cuál es el sentido de todo esto. Esa es una buena pregunta. Mi respuesta sería en ninguna parte, porque esta publicación no fue a ninguna parte. ¡Disfruta el resto de tu dia!