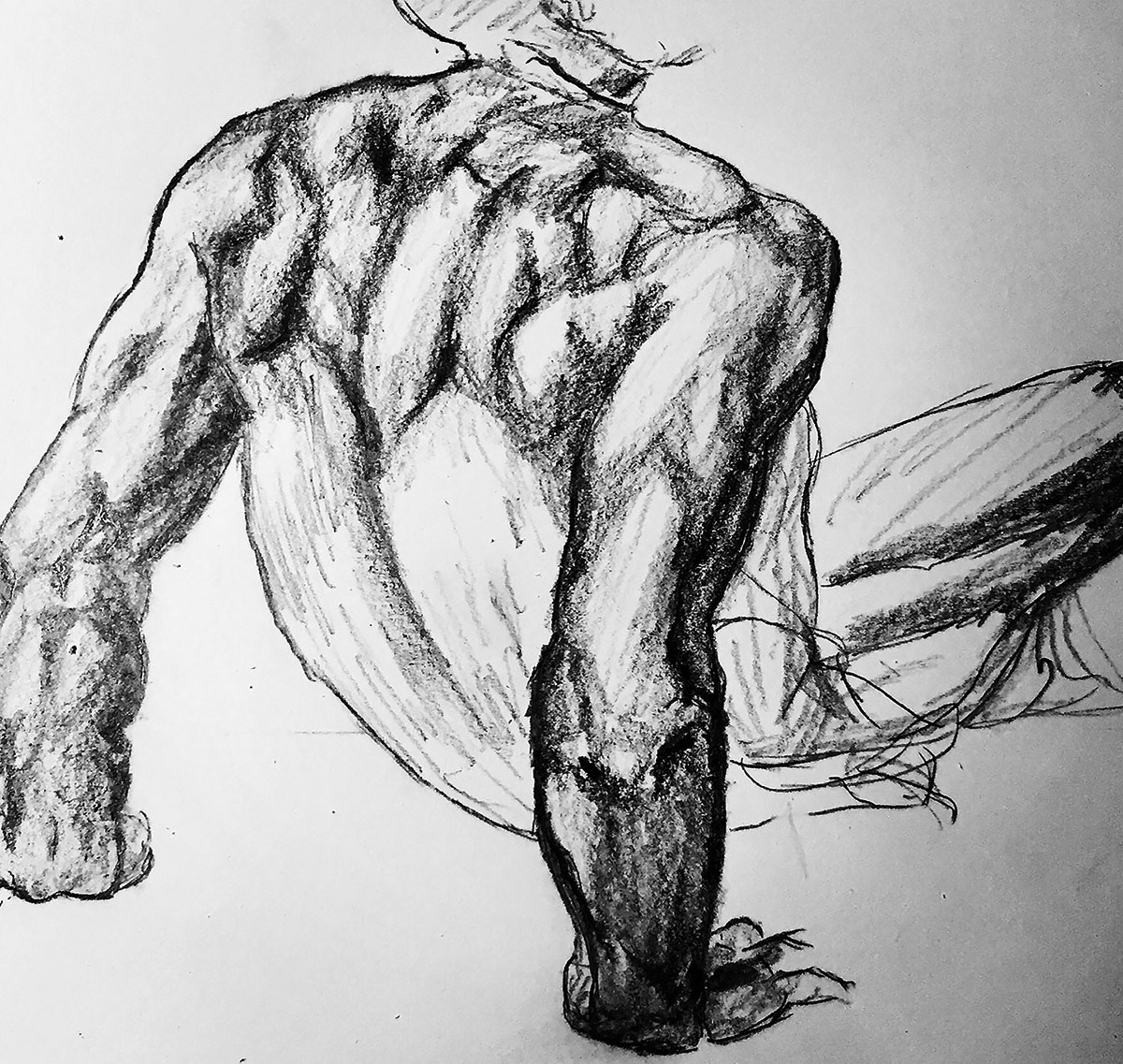 Graphite pencil figure drawing copied from Michelangelo Buonarroti. According to the book of drawings I'm working from the description is "Study for one of the resurrected of the last judgement". It also says it is in 'British Museum'. Once again I'm going to assume it is The British Museum and not one of the garden variety British museums. The British Museum labels the drawing "A FIGURE RISING FROM THE GRAVE, IN THE FOREGROUND OF THE LAST JUDGEMENT." Yes, they wrote it out in all caps. If you're THE BRITISH MUSEUM you can do things like that. If you are The Viktor Wynd Museum of Curiosities, Fine Art & Natural History, also in London, then you cannot get away with things like that. The last thing people want is Viktor Wynd appearing to yell at them. Let's get back to the drawing. Michelangelo did his in black chalk heightened with white. I just did mine in pencil. The scratchiness of chalk bothers me somehow. Like pastels and so forth. So I try to substitute it for something non-scratchy. The term "non-scratchy" was not underlined so I guess it's a real word. Thanks computer for taking my side for once.
On the back of the drawing is another drawing. Michelangelo was perhaps very frugal in his use of paper and/or environmentally responsible. In hindsight, I think it would have been OK if he would have used two sheets of paper. I mean I don't think he would be 'cancelled' of discredited for using more than one piece of paper. I mean I'm all for getting the most out of your materials but really, I mean it's Michelangelo.
And Now for the Spanish translation courtesy of google translate:
Dibujo de figura a lápiz de grafito copiado de Michelangelo Buonaratti. Según el libro de dibujos que estoy trabajando a partir de la descripción es "Estudio para uno de los resucitados del juicio final". También dice que está en el 'Museo Británico'. Una vez más, voy a suponer que es el Museo Británico y no uno de los museos británicos de variedad de jardín. El Museo Británico etiqueta el dibujo como "UNA FIGURA QUE SE LEVANTA DE LA TUMBA, EN EL PRIMER PLANO DEL JUICIO FINAL". Sí, lo escribieron en mayúsculas. Si eres EL MUSEO BRITÁNICO puedes hacer cosas así. Si eres el Museo de Curiosidades, Bellas Artes e Historia Natural Viktor Wynd, también en Londres, entonces no puedes salirte con la tuya. Lo último que la gente quiere es que Viktor Wynd parezca gritarles. Volvamos al dibujo. Miguel Ángel hizo el suyo con tiza negra realzada con blanco. Acabo de hacer el mío a lápiz. La aspereza de la tiza me molesta de alguna manera. Como pasteles y demás. Así que trato de sustituirlo por algo que no raye. El término "no raya" no estaba subrayado, así que supongo que es una palabra real. Gracias computadora por estar de mi lado por una vez. En la parte posterior del dibujo hay otro dibujo. Miguel Ángel fue quizás muy frugal en su uso del papel y/o ambientalmente responsable. En retrospectiva, creo que hubiera estado bien si hubiera usado dos hojas de papel. Quiero decir, no creo que él sea 'cancelado' o desacreditado por usar más de una hoja de papel. Me refiero a que estoy a favor de sacar el máximo provecho de sus materiales, pero en realidad, me refiero a que es Miguel Ángel.