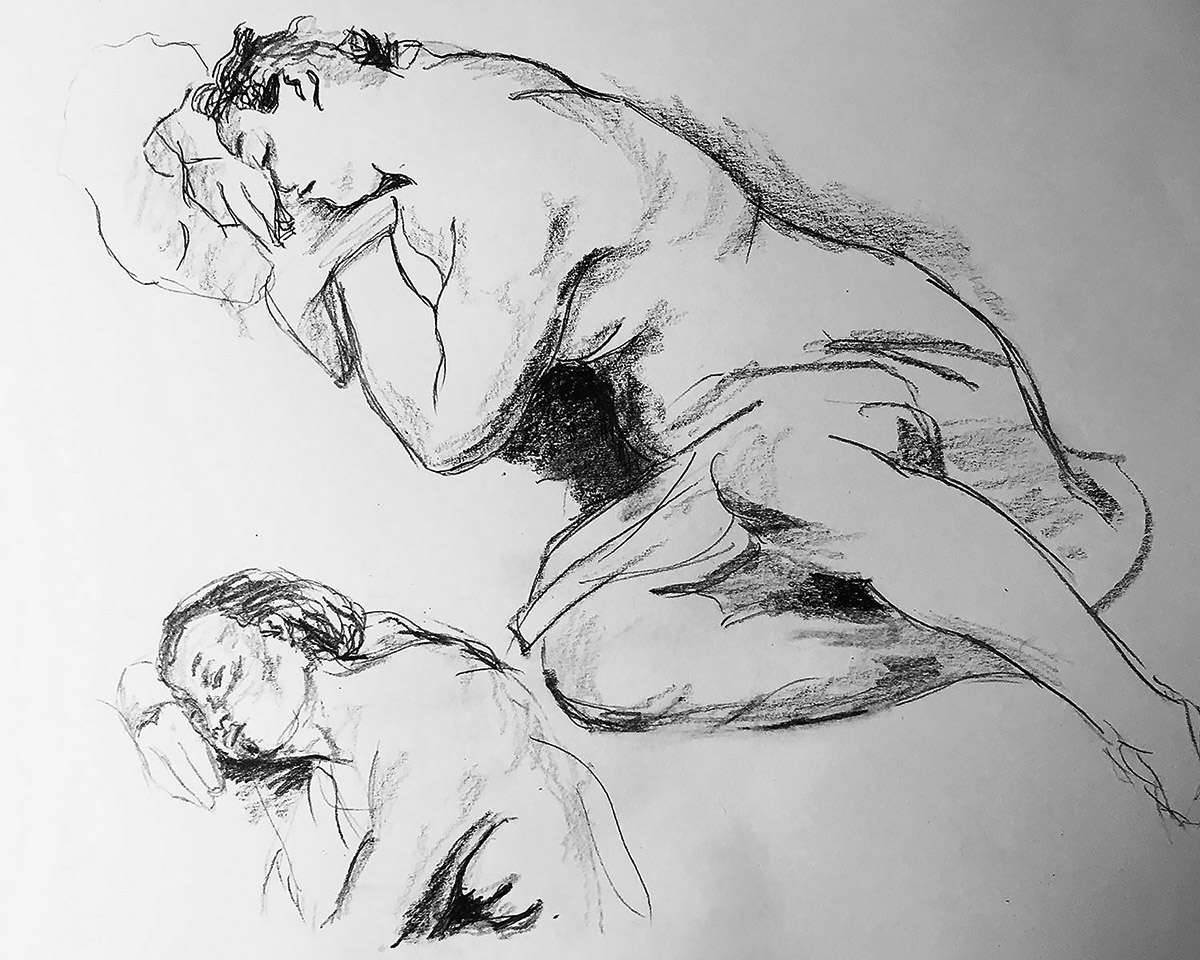 Up next on our master copying adventure, we have a graphite drawing of a woman sleeping copied from a work by Anthony Van Dyke or if you want to be more formal, Sir Anthony Van Dyke. Of course, if people have a choice they usually like to be less formal. That is why sweatpants are so popular. Let's get back to Anthony Van Dyke. If you would like to see the original drawing of a woman sleeping by Sir Anthony Van Dyke, click here. Now let's talk about Van Dyke. According to the Britannica website, which was the encyclopedia Britannica, which was a set of large books that occupied a lot of shelf space and included lots of information on a wide variety of topics. Yet somehow never included enough information on one topic to write an entire school report. Now let's talk about Sir Anthony Van Dyke. He was born in 1599 in Antwerp which is now Belgium. He is second only to Peter Paul Rubens, as the most important Flemish painter of the 1600s. Van Dyke is best known for his portrait paintings of the aristocracy but he also created mythological and religious work. He was the 7th of 12 children and displayed all the common characteristics of a 7th child. His father was a successful silk salesman. He started a painting apprenticeship at the age of ten. His approach to applying paint was relatively simple for the time. He applied thin coats of blue, gray, pink, ochre and sienna. This gave his work a soft and harmonious look. There are 500 portraits created by Van Dyke still in existence, which is an incredible output considering he only lived to the age of 42. He greatly influence younger Flemish artists, perhaps even more than Peter Paul Rubens. English portrait painters such as Thomas Gainsborough in the 18th century also borrowed heavily from his work. Scholars not only continue to study his portrait paintings but also his drawings, watercolors and etchings of landscapes and other various subjects.
And now for the much anticipated translation brought to us by our good friends at Google translate:
A continuación, en nuestra aventura maestra de copiado, tenemos un dibujo de grafito de una mujer durmiendo copiado de una obra de Anthony Van Dyke o, si quieres ser más formal, de Sir Anthony Van Dyke. Por supuesto, si la gente tiene la opción, por lo general les gusta ser menos formales. Es por eso que los pantalones de chándal son tan populares. Volvamos a Anthony Van Dyke. Si desea ver el dibujo original de una mujer durmiendo de Sir Anthony Van Dyke, haga clic aquí. Ahora hablemos de Van Dyke. Según el sitio web Britannica, que era la enciclopedia Britannica, que era un conjunto de libros grandes que ocupaban mucho espacio en los estantes e incluían mucha información sobre una amplia variedad de temas. Sin embargo, de alguna manera nunca incluía suficiente información sobre un tema para escribir un informe escolar completo. Ahora hablemos de Sir Anthony Van Dyke. Nació en 1599 en Amberes, lo que ahora es Bélgica. Solo es superado por Peter Paul Rubens, como el pintor flamenco más importante del siglo XVII. Van Dyke es mejor conocido por sus retratos de la aristocracia, pero también creó obras mitológicas y religiosas. Era el séptimo de 12 hijos y mostraba todas las características comunes de un séptimo hijo. Su padre era un exitoso vendedor de seda. Comenzó un aprendizaje de pintura a la edad de diez años. Su enfoque para aplicar pintura era relativamente simple para la época. Aplicó finas capas de azul, gris, rosa, ocre y siena. Esto le dio a su trabajo un aspecto suave y armonioso. Todavía existen 500 retratos creados por Van Dyke, lo cual es una producción increíble considerando que solo vivió hasta los 42 años. Influyó mucho en los artistas flamencos más jóvenes, quizás incluso más que Peter Paul Rubens. Los retratistas ingleses como Thomas Gainsborough en el siglo XVIII también tomaron mucho de su trabajo. Los estudiosos no solo continúan estudiando sus pinturas de retratos, sino también sus dibujos, acuarelas y aguafuertes de paisajes y otros temas diversos.