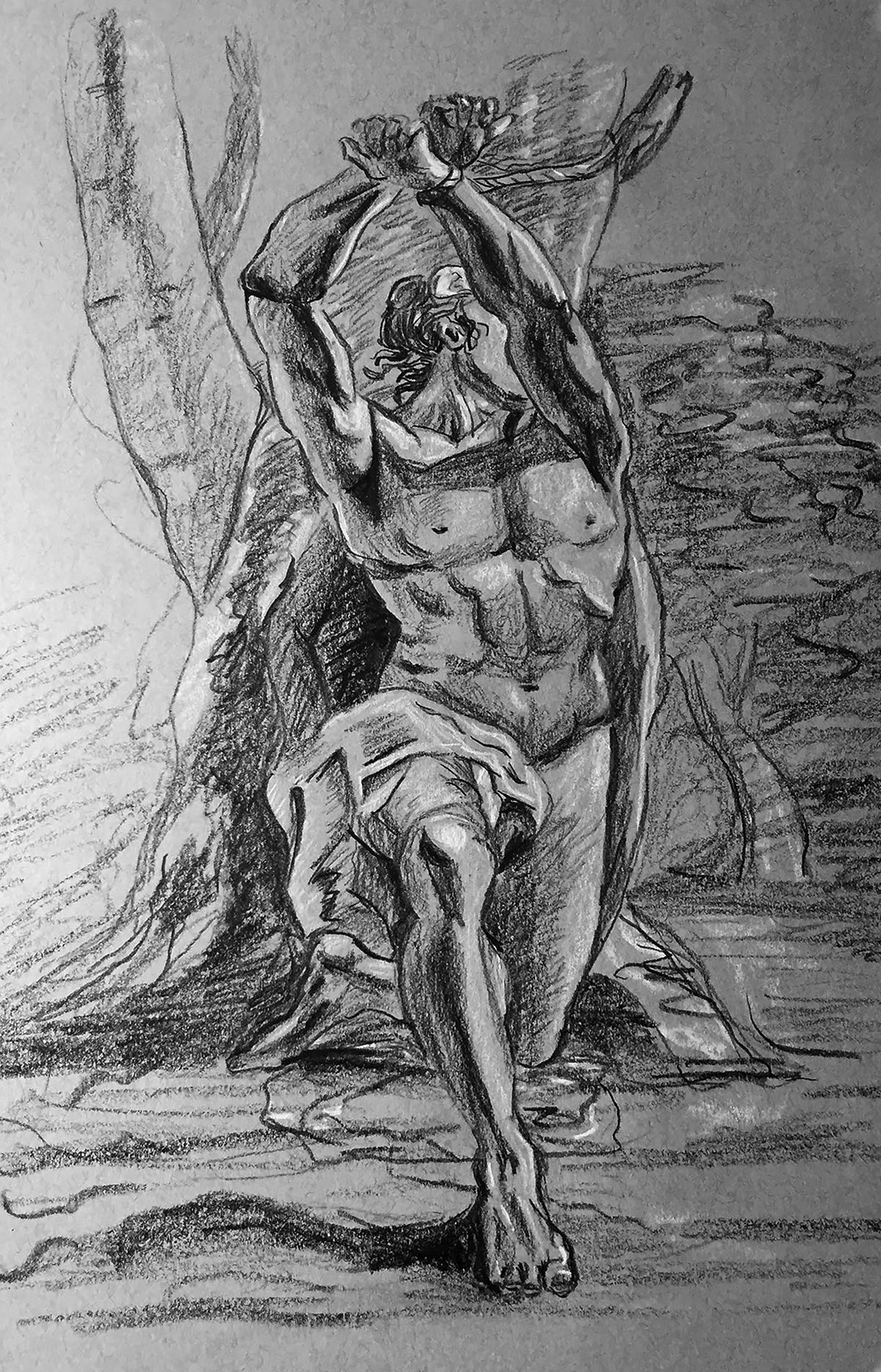 Right above this text you should see a copy of a drawing by Charles Le Brun. The original was done in Sanguine with some white added. Sanguine is a chalk with a reddish-brown color that resembles dried blood. If you want to buy some for drawing you can find it at better art supplies stores everywhere. Just ask for Sanguine chalk for drawing. I have found that this is more effective than asking for something that looks like dried blood. Sanguine or Sanguigna in Italian or Sanguis in Latin has been around for centuries. There was also some white added to Le Brun's drawing. It didn't say what kind of white so you are on your own. I drew my copy using Black and white Prismacolor pencils on gray toned paper. The subject of the drawing is Prometheus Bound. Which is a Greek play written by Aeschylus sometime between 479 bc and 424 bc. This tragedy is about the Titan Prometheus who disobeys Zeus by giving fire to mankind. Apparently, Zeus did not believe man deserved fire but Prometheus thought man would need fire to stay warm, cook food and ultimately over cook that same food. Zeus punished Prometheus by tying him up with chains and then let an eagle eat his liver. The liver would grow back every night and then the eagle would then eat the liver again. So there are two things we can learn from this story. First of all, only eagles are willing to eat liver and secondly you should never do anything that benefits mankind.
Let's talk about Charles Le Brun. According to Wikipedia, he was baptized in Paris, France on February 24, 1619 and died on February 12, 1690. He was a painter, an art theorist, an art school director and a physiognomist. You probably are unsure what a painter does. He paints. You are probably even more confused about what a physiognomist is. Apparently, and this is according to Wikipedia, it is someone who judges a persons character by their appearance. I'm going to leave it there.
And now for the same nonsense in Spanish by our friends at Google translate
Justo encima de este texto deberías ver una copia de un dibujo de Charles Le Brun. El original se hizo en Sanguine con algo de blanco añadido. Sanguine es una tiza con un color marrón rojizo que se asemeja a la sangre seca. Si desea comprar algunos para dibujar, puede encontrarlos en las mejores tiendas de suministros de arte en todas partes. Solo pide tiza Sanguine para dibujar. Descubrí que esto es más efectivo que pedir algo que parece sangre seca. Sanguine o Sanguigna en italiano o Sanguis en latín ha existido durante siglos. También se agregó algo de blanco al dibujo de Le Brun. No dijo qué tipo de blanco, así que estás solo. Dibujé mi copia con lápices Prismacolor en blanco y negro sobre papel en tonos grises. El tema del dibujo es Prometheus Bound. Que es una obra griega escrita por Esquilo en algún momento entre el 479 a. C. y el 424 a. C. Esta tragedia trata sobre el Titán Prometeo que desobedece a Zeus dando fuego a la humanidad. Aparentemente, Zeus no creía que el hombre mereciera el fuego, pero Prometeo pensó que el hombre necesitaría fuego para mantenerse caliente, cocinar y, en última instancia, cocinar en exceso esa misma comida. Zeus castigó a Prometeo atándolo con cadenas y luego dejando que un águila se comiera su hígado. El hígado volvía a crecer cada noche y luego el águila volvía a comer el hígado. Así que hay dos cosas que podemos aprender de esta historia. En primer lugar, solo las águilas están dispuestas a comer hígado y, en segundo lugar, nunca debes hacer nada que beneficie a la humanidad. Hablemos de Charles Le Brun. Según Wikipedia, fue bautizado en París, Francia el 24 de febrero de 1619 y murió el 12 de febrero de 1690. Fue pintor, teórico del arte, director de escuela de arte y fisonomista. Probablemente no esté seguro de lo que hace un pintor. El pinta. Probablemente esté aún más confundido acerca de lo que es un fisonomista. Aparentemente, y esto es según Wikipedia, es alguien que juzga el carácter de una persona por su apariencia. Voy a dejarlo ahí.