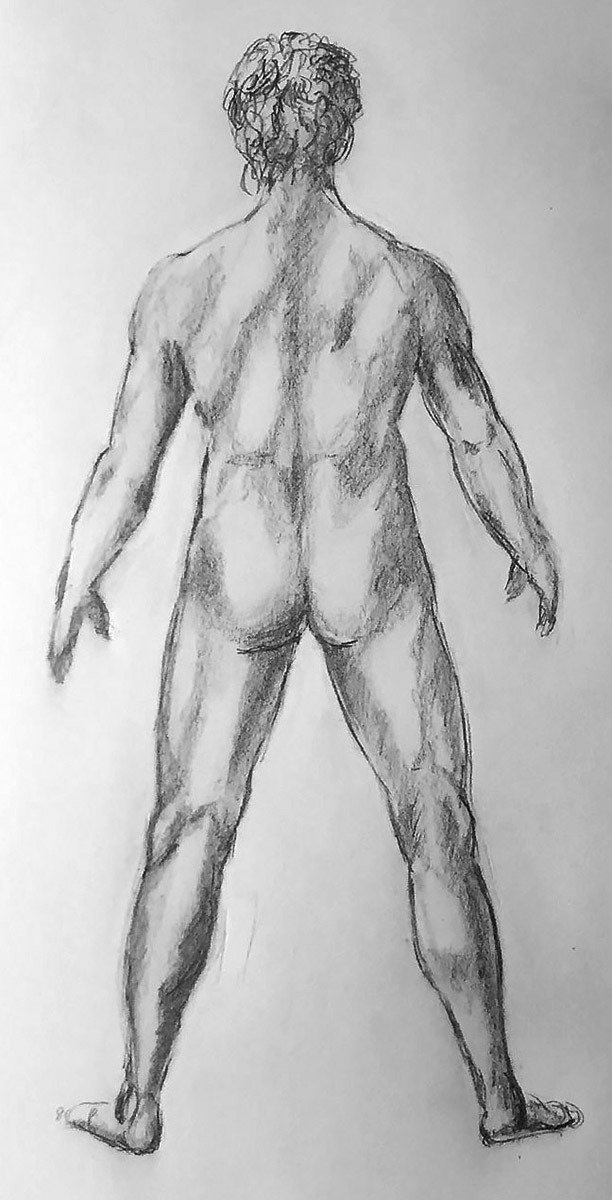 So here we have a drawing done in 'you guessed it' graphite pencil. I'm not sure why I have to say 'graphite' before pencil. Pretty much all pencils are now made of graphite. There was once a time when pencils were made of lead. There was lead in paint, water pipes and gas. But since lead is toxic it was replaced. I feel sorry for the people that worked in the lead business. They were living the capitalist dream until they found out they not only were constantly exposed to a toxic substance, but they were also out of a job. I wonder if they found them both out on the same day. That would have been very unfortunate.
Let's get back to the above drawing. It is a copy of a drawing by Leonardo da Vinci. The original is described as 'nude man standing back to spectator.' As you can see that pretty much sums up what it is.
As I have stated earlier, it was copied from a book on old master drawings. During the pandemic, which is still going on, I set out to copy every drawing in that book. There are 100 figure drawings. I must admit whenever I post one of these pictures I feel a bit strange. When I post a drawing of a nude women I wonder if people will think I'm some kind of pervert and if I post a drawing of a nude man then they might think I'm a gay pervert. I have also been posting these drawings on my Instagram account and I've been attracting some men that are, how do I put it, "light in the loafer". Not that there is anything wrong with that. It's a strange feeling to receive unwanted attention. This must be how a lot of women feel.
Anyway, let's get back to the drawing. The original was done in red chalk. It is in the Royal Library located in the Windsor Castle just outside of London.
And now the translation by Google Translate:
Así que aquí tenemos un dibujo hecho en lápiz de grafito 'lo adivinaste'. No estoy seguro de por qué tengo que decir "grafito" antes que lápiz. Casi todos los lápices ahora están hechos de grafito. Hubo un tiempo en que los lápices estaban hechos de plomo. Había plomo en la pintura, las tuberías de agua y el gas. Pero como el plomo es tóxico, fue reemplazado. Lo siento por las personas que trabajaron en el negocio del plomo. Vivían el sueño capitalista hasta que descubrieron que no solo estaban expuestos constantemente a una sustancia tóxica, sino que también estaban sin trabajo. Me pregunto si los descubrieron a ambos el mismo día. Eso hubiera sido muy desafortunado. Volvamos al dibujo de arriba. Es una copia de un dibujo de Leonardo da Vinci. El original se describe como "un hombre desnudo de espaldas al espectador". Como puede ver, eso resume bastante bien lo que es. Como dije anteriormente, fue copiado de un libro sobre dibujos maestros antiguos. Durante la pandemia, que aún continúa, me propuse copiar todos los dibujos de ese libro. Hay 100 dibujos de figuras. Debo admitir que cada vez que publico una de estas fotos me siento un poco extraño. Cuando publico un dibujo de una mujer desnuda, me pregunto si la gente pensará que soy una especie de pervertido y si publico un dibujo de un hombre desnudo, es posible que piensen que soy un pervertido gay. También he estado publicando estos dibujos en mi cuenta de Instagram y he estado atrayendo a algunos hombres que son, cómo lo digo, "ligeros en el mocasín". No es que haya nada malo en eso. Es una sensación extraña recibir atención no deseada. Debe ser así como se sienten muchas mujeres. De todos modos, volvamos al dibujo. El original fue realizado con tiza roja. Está en la Biblioteca Real ubicada en el Castillo de Windsor, a las afueras de Londres.